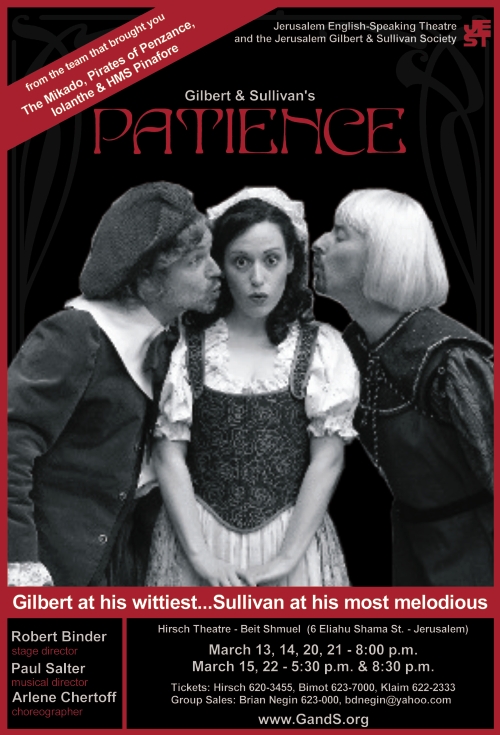 PATIENCE
or Bunthorne's Bride
Once again our spring fare (March 2007) will feature a classic Gilbert and Sullivan opera -- this time
Patience
, produced by the same artistic team of
Robert Binder, Paul Salter and Arlene Chertoff
that brought you
The Mikado
,
The Pirates of Penzance
,
Iolanthe
and
HMS Pinafore
. A wildly satiric opera,
Patience
lampooned the aesthetic craze of the 1880's, but is essentially a send-up of a human folly that is always with us: the blind cult-worship of media personalities and fads. Patience is a village milkmaid, untutored in love, who is caught between the annoying attentions of a poseur poet, Bunthorne (who lives on public adoration,) and his rival, the self-described "apostle of beauty," Grosvenor, who seeks to hide his "fatal attraction" from the masses. Enter a regiment of Dragoon Guards, who were once engaged to the local ladies who now flock after the poets, and you have a brilliant clash of temperament, wit and infectious music.
The original production of Patience was second in popularity only to
The Mikado
and remains Gilbert & Sullivan's most biting and at the same time melodious work.
Where?
Performances will be at the Hirsch Theater, 6 Eliahu Shama St. in Jerusalem (Beit Shmuel - Mercaz Shimson).
Click here for a map.
When?
Tuesday, March 13; Wednesday, March 14; Thursday, March 15 (matinee and evening); Tuesday, March 20; Wednesday, March 21; and Thursday, March 22 (matinee and evening).
Who?
The show has not yet been cast. Auditions will be held on October 31, and November 01, 2006.
Click here for more information about auditioning for this show.
After the show has been cast, return here for a full cast list.
Tickets
Click here for information about ordering tickets for this show.
Media
Currently only the
poster
for this show is available. After the show return here for pictures, audio clips, and video clips.